Humanities programs in UST receive boost from
ALC Group of Companies
March 20, 2019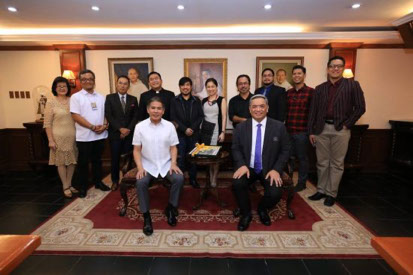 The University of Santo Tomas is expected to further strengthen and continue its distinguished tradition in the field of the Humanities with the support from the family of Amb. Antonio L. Cabangon Chua, the late Philippine Ambassador to Laos. "ALC" or "Amba," as the friends of the older Cabangon Chua fondly called him, was known to have been a devoted patron of the arts and a bighearted supporter of the Church.
On February 26, 2019, the sons of the eminent philanthropist formally established the UST-Ambassador Antonio L. Cabangon Chua Research Award for the Humanities in honor of their father. It was done through the signing of a memorandum of agreement between the family and the University through the UST Research and Endowment Foundation, Inc. (UST REFI).
"I know that our father is smiling right now because we are continuing his noble legacy of supporting and honoring our Filipino artists," said son D. Edgard A. Cabangon, who headed the Cabangon family in the signing ceremony. "It is also opportune that we are having this program with UST because our father was also very close to the Church."
UST Rector Very Rev. Fr. Herminio V. Dagohoy, O.P., signed the agreement for the University, while the Secretary-General Rev. Fr. Jesus M. Miranda, Jr., O.P., represented the UST REFI as Director of the Office for Grants, Endowments and Partnerships in Higher Education. "Today, in this signing of the memorandum of agreement between the University of Santo Tomas and the ALC Group of Companies, we are not only supporting, but also celebrating the Humanities," the Father Rector said. "This partnership will push forth the Arts' noble mission."
Also present were: Ms. Sharon Tan, BusinessMirror and Philippines Graphic publisher T. Anthony C. Cabangon, ALC Realty Corp. and ALC Industrial and Commercial Development Corp. President D. Edward A. Cabangon, and Philippines Graphic Editor in Chief Joel Pablo Salud.
Starting Academic Year 2019–2020, the UST-Ambassador Antonio L. Cabangon Chua Research Award for the Humanities will annually have two recipient researchers. Their research subject must be one notable Thomasian artist, who has contributed to the rich landscape of Philippine culture.
Each researcher will receive a total of PHP150,000.00 to conduct research, which must be completed within one year. Upon the completion of their research, the recipients will have to present it as a public lecture in the University, preferably during the National Literature Month in April or the National Heritage Month in May.
The complete guideline will soon be released by the lead unit for this program, the UST Department of Literature chaired by Asst. Prof. Joselito Delos Reyes, Ph.D.